When working from home, you want your desk to become not just a workstation but also somewhere you actually want to be at. So, we've listed some of the products we've encountered that will definitely help you create your dream #WorkFromHome setup.
ASUS ROG Zephyrus Duo 15
Max out your workstation's output with  the latest flagship ROG model from ASUS, the ASUS ROG Zephyrus Duo 15. Powered by a 10th Gen Intel Core i9 processor and featuring an NVIDIA GeForce RTX 2080 SUPER video card, the heavy-duty multipurpose laptop could easily meet the needs of hardcore gamers and serious content creators alike. It's also the first gaming laptop to feature a 4K 14,1 inch touchscreen in addition to its 15,6 inch main screen, dubbed the "ROG ScreenPad Plus." Get your work station centerpiece now at ASUS' webstore.
Bang & Olufsen Beoplay H9
Any audiophile would argue that Bang & Olufsen's Beoplay H9 third generation headphones are one of the best pairs on the market right now. It boasts 25 hours of battery life as well as B&O's ever-reliable advanced noise cancellation system which makes it the perfect choice when when you need to focus on your work. But if you're not a headphone type of guy, be sure to check out Bang & Olufsen's other audio offerings from its Contrast collection below.
Montblanc Leather Multifunctional Tray
Elegantly organize your workstation with Montblanc's new compact Modular tray system. Crafted from soft black calfskin leather with gray suede lining, the 4-in-1 desk organizer is made up of a pocket emptier, a pen holder, a desk box and desk tray. These compact trays can be used separately or assembled together. Available at Montblanc's webstore.
Bluelounge CableDrop Multi
The last thing you want to do after getting your work done is having to untangle a web of  messy cables. We're also sure that cables that have slithered beyond our reach—say, behind your desk—is annoying and adds to your stress levels. Bluelounge's CableDrop Multi is an adhesive cable organizer that can stick to any surface (it's PC friendly) and can hold up to fourcharging cables at once. Get one now and rest comfortably in the knowledge that you've just solved a huge chunk of your cable-management problems.
G-WACK Stress Relief Desk Sculpture
This particular desk accessory may come off as being completely unnecessary, but it can definitely become your favorite desk-improvement piece. This magnetic-base desk sculpture is a stress reliever for when you need to take your mind off your work and craft just about any shape you like using 221 different-sized magnetic balls. The G-WACK Stress Relief Desk Sculpture is probably the best desk stress reliever to buy now.
L'Occitane Glass Candle Relaxing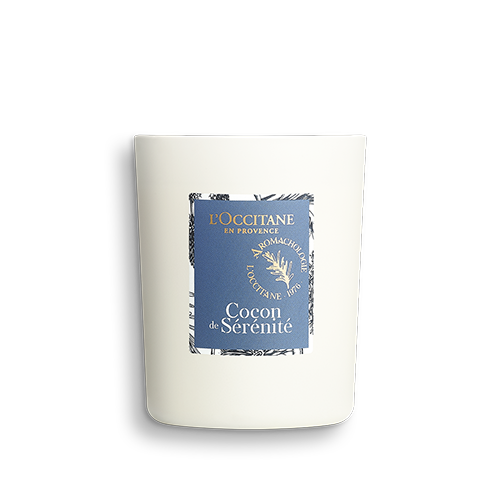 L'Occitane has the perfect solution for stress and anxiety relief—which a lot of us are experiencing right now. The "Cocon de Serenite" or relaxing glass candle is made from essential lavender oil combined with sweet orange, bergamot, mandarin and geranium, guaranteed to fill your home office sweet, long-lasting notes. Shop now from the L'Occitane webstore.
U-Are Ultimate Comfort Set
If you feel that the chair you have at home doesn't feel all that comfortable after long hours of work, instead of buying a new one, you could always invest in U Are's Ultimate Comfort. This product range features a 100-percent orthopedic memory foam back support and also a seat cushion that's made from a special gel to keep your bottoms cool at all time. It also comes with a rainproof cover—just in case. The U Are Ultimate Comfort set is available at Amazon.
Moleskine Smart Writing Set
Moleskine has one of the most user-friendly and accurate digital notebooks (which also syncs to your Google Calendar) on the market. This is in no small part thanks to a smart pen which has an embedded infrared camera to track your writing. It also enables you to switch colors easily, can run for up to five hours on a single charge and stores up to 1,000 notes at a time. Buy it now and start jotting down notes or doodling ideas.
OTUS Motion Sensor Architect Desk Lamp
With a classic-meets-contemporary design, the OTUS Motion Sensor Architect Desk Lamp with anti-flickering lights to reduce eye strain as well as featuring three color modes for studying, reading and relaxing. Think turning on your lamp is too much of a hassle? Well, this particular lamp can be turned on or off with a wave of your hand—a bit like a Jedi. Truly not just a stylish but also a handy lighting appliance, the lamp is available at Amazon. Keep in mind, though, that stocks are limited.
Marbrasse Desktop Glass Planter Hydroponics Vase
Besides making it useful, its also important to ensure that your desk becomes a place where you want to spend time in. If you have a spare space in your desk (and also have more room for commitment-oriented tasks), why not add a houseplant with this straightforward light bulb-turned-houseplant vase attached to a metal stand. It's the perfect companion that adds a much-needed touch of color to any rigid desk. Get the Marbrasse Desktop Glass Planter Hydroponics Vase here.